---
---

Nina Wooldridge
Birth: 2 June 1894 in McLean Co, KY
Death: 1971 in Ft. Worth, TX
Burial: Restlawn Cemetery, El Paso, TX
Father: Thomas Hardy Wooldridge
Mother: Bernice Gibson
Spouse: Humphrey Marshall Early
Marriage: 24 Dec 1915 in Owensboro, Daviess Co, KY
---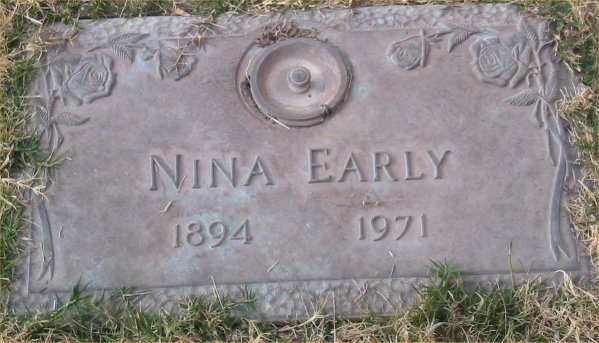 ---
Your Grand Life, My Own Life
by Nina Wooldridge, 1905
My name is Nina Wooldridge. I was born McLean Co, Ky in 1894. My parents were tall and fair. My father had light hair and blue eyes. My mother has brown hair and brown eyes. My father's name is T.H.Wooldridge. My mothers name is Berenice. Their occupation was farming. My father is dead now. My first ricolection of home is walking a mile to a tobacco patch on Brushy Fork creek and playing with tobacco worms and being bitten by gnats and mosquitos and falling down and mashing my nose in the dust.
My first reccollation of school was going to sleep and falling of my seat. My first school teacher was Mr. Vernon Vanover. My studies were third reader and spelling and arithmetic. I remember going to Owensboro on Labor day to hear Governor Goebel and Senator Blackburn speak in 1899.
I also remember Governor Goebel's assassination. I remember going to Owensboro to have my picture made. My present age is eleven. I would like to teach school.
Nina Wooldridge
R#1, Box 51
Utica, Ky
---